By Carie Lewis
Here at HSUS, our email file is largely skewed to older women. We've been in the social media space for 2+ years now, trying to broaden our audience. But we haven't done much integration of our email file and website to our social media presence because of the fear that the demographic of the two don't match.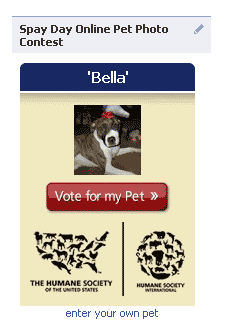 So, when it was time for our annual Spay Day Online Pet Photo Contest, and there was the question of whether or not to invest money in an accompanying Facebook application, there were some skeptics.
Being the social media person at the organization, I was all for it. I knew that as long as the application took advantage of Facebook's viral features, it would take off. In my mind, this meant:
1 – all functions had to stay within the Facebook platform (instead of taking you to the external site)
2 – the Facebook app had to be a mirror of the external site and not a separate entity
3 – there had to be some function to post a "box" to your profile to show off your pet
4 – there had to be some function to post a "story" to your newsfeed, both when you installed the app and when you entered your pet
Of course, that's overly-simplified. It took a long time to get it to where it is now. But the time and money were both worth it, as it essentially paid for itself.
The Facebook app currently has a utilization rate of 65%. That means 65% of the people who have entered the contest have installed the Facebook app. And when you see that the largest amount of people who entered the contest came from the email we sent to our file, and our file is largely skewed older female, then I'm lead to believe that those older women actually are on Facebook! In fact, I just read an article in MediaPost that said women over 55 are the fastest growing US demographic group on Facebook in the past 3 months. (I believe it, since my mother has recently joined, and become addicted.)
We have almost tripled the amount raised from the photo contest last year, and there's still almost a month left. I honestly believe it's because we've made it easier to share the contest and entries this year, the Facebook app being just one way. And who wouldn't want to show off their adorable, loving companion on their Facebook page?
If you haven't already, check out the contest at  http://photocontest.humanesociety.org and the Facebook app at http://apps.facebook.com/spayday.
Don't forget to sign up for K Street Café's mailing-list to receive news about exclusive content and events.